Our Team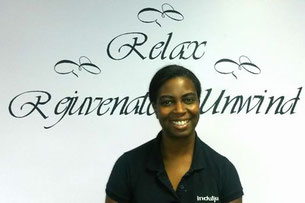 Nichol Carmichael LMT, Kentucky (does not hold an Ohio license)
Nichol has had a passion for massage for as long as she can remember.  She obtained her license as a massage therapist in the state of Kentucky in 2013.  Her clients have commented on her attention to detail and intuitive touch during massage.  Nichol is excited to offer relaxation massage at Indulju.  She is pursuing the licensure necessary to practice the more therapeutic massage modalities, such as deep tissue, precision neuromuscular therapy and active isolated stretching.
In Her Own Words: 
"As a child, my mother began teaching me massage and I have loved massage and healing touch ever since.
When I enrolled in school, I dedicated myself to the formal study of professional massage techniques along with anatomy and physiology.
Through my hands, my clients experience a warm, caring touch.  As I work on someone, it is my desire to soothe their spirit, mind and body.  It is my hope that being in the sanctuary of my room, with all outside distractions removed, they are able to allow their spirit to recharge, their mind to quiet and their body to relax."
Nichols Favorite Quote:
"Too often we underestimate the power of a touch, a smile, a kind word, a
listening ear, an honest compliment, or the smallest act of caring, all
of which have the potential to turn a life around."
Tel: 513-888-1400
Email: nichol@indulju.com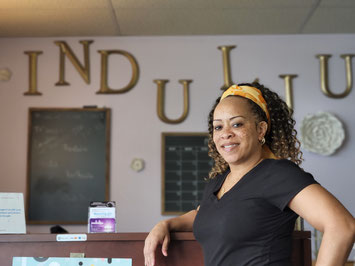 Christina Gray, New Jersey Certified (does not hold an Ohio license)
Christina is a graduate of The Academy of the Massage Therapy in Hackensack, NJ. She is a New Jersey certified Massage Therapist who fell in love with the practice over 10 years ago. The undeniable effectiveness of healing touch and its contribution as it relates to eastern/spiritual modalities, coupled with her ability understand and respect the complex relationships that exist between the anatomically physical and undefinable energy systems at work within the human body, provide the foundation upon which Christina has developed her unique skill-set. It is this humble awareness of the symbiotic relationships that exist between science and spirit that has helped her through her own life-obstacles (cancer, anxiety, endometriosis). She grew up an observant traveler, her heart and eyes open to witness people from all walks of life.  Christina's goal is to combine her education, empathy, understanding and desire for personal evolution as a healing force, one body and soul at a time.
In Her Own Words: 
"."
Christinas Favorite Quote:
"
Tel: 513-888-1400
Kate Wheeler LMT, Kentucky (does not hold an Ohio License)
Kate Wheeler studied Massage Therapay under the tutelage of Lance Nelson at Gateway College.  She received her certification in massage in 2012 and became licensed in the state of Kentucky in 2013.  She specializes in and has a passion for various modalities of massage as well as the study of essential oils and their various uses.  She has a husband and two young sons, so she truly understands the value of relaxation!
Tel: 513-888-1400